Back To Our Services
Garage door springs can either be torsion or extension springs. Torsion springs are engineered with different designs, from standard residential or commercial to torque master, EZ-set, mini-warehouse and steel rolling door springs. Extension garage door springs are engineered with sectional and one-piece springs. The springs make it easy to open or close the garage door, for they counterbalance its weight. Replacing the springs can be dangerous especially if you do not fully understand the forces at work. This is why you can trust our "Garage Door Repair Oradell". We understand the weights and parts of overhead door springs and how these parts are interconnected. Regardless of how your springs are engineered, we have a representative to fix and replace it.
Damaged Springs are Dangerous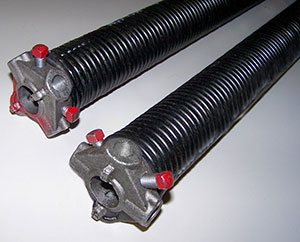 Garage door broken spring requires professional skills. It should never be repaired by someone who is not properly trained to perform such task. Proper tools are also needed for this work. Once you notice that there is something wrong with the spring, contact us immediately so we can diagnose the problem right away. It is dangerous to continue using damaged springs. You can determine if your springs need repair or replacement if they are old, since they have a limited lifespan. This is measured in cycles. A cycle includes its going up and down. It is the force or extreme tension of the springs that could make it harmful.
Whether you need garage door torsion spring replacement or extension spring repair, our company could quickly respond and perform efficient work. We do not settle for anything less in everything we do. We equip ourselves with the most advanced tools, equipments and skills, so no job is too big or small for us. We also pride ourselves with courteous technicians to deliver excellent service. They are knowledgeable with any design of springs so you can be assured of a hassle-free work. Feel free to call us for any inquiries and we can schedule an appointment right away.
Back To Our Services